11th Anniversary November 3rd, 2017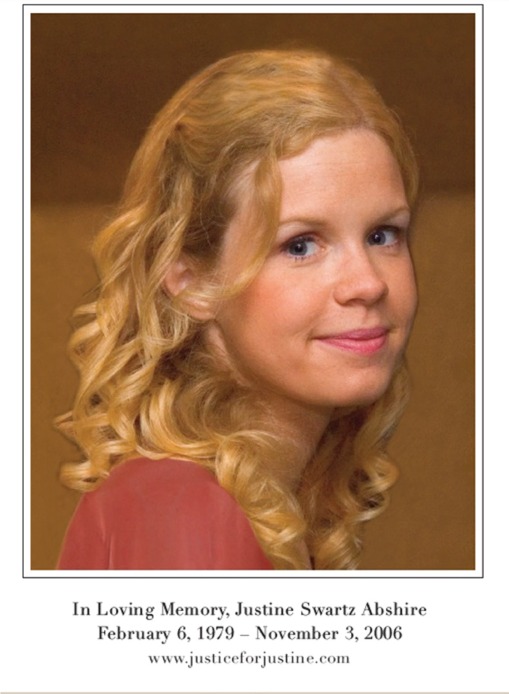 December 2011 - Dear Friends and Family,
As the New Year begins, we are at the end of our long fight for Justice for Justine. As you know, Eric Abshire was convicted of First Degree Murder on October 25, 2011. We have one more step in this long, painful journey.
The jury that convicted Eric recommended life in prison, but the final decision belongs to the Judge in the case, Hon. Daniel Bouten. The hearing and final sentencing will be held on January 12 at 1:30 at the Orange County Courthouse in Orange County, Virginia. We will, of course, attend, and know that those of you who are unable to attend this very important hearing will be with us in spirit.
At the hearing, only Justine's immediate family will be allowed to give victim impact statements. We will have the opportunity to provide testimony about how the loss of her has impacted our lives. We know that Justine touched many of you in the same way. If you would like to share your own experience about what the loss of Justine has meant to you and your families, you may send a letter which will be presented to the Judge at the hearing.
Letters must be received by the Commonwealth's Attorney's Office by January 10, and should be addressed to:
The Hon. Judge Daniel Bouten
Orange County Circuit Court
Please mail them to
Diana H Wheeler
Orange County Commonwealth's Attorney
110 North Madison Road, Suite 220
PO Box 310
Orange, Virginia 22960
For those that have walked with us this entire time, we appreciate your love and support. This is one last time to tell the Judge what the loss of Justine meant to all of us and to make sure Justice for Justine is upheld.
Heidi, Stephen and Lauren Swartz
Justice Served for Justine Swartz Abshire
Orange County Court finds Eric Abshire Guilty of First Degree Murder
ORANGE, Va. – October 26, 2011 – Nearly five years to the day of her death, justice was finally served yesterday in the murder of 27-year-old Justine Swartz Abshire. In a trial that ended at the Orange County, VA courthouse, Eric Abshire was convicted of first degree murder and sentenced to life in prison.
"We always had faith that this be the eventual outcome and are in many ways relieved to have this behind us. We are also acutely aware of how much we owe to so many people, from Diana Wheeler and the Commonwealth attorney's office, to Special Agents Mike Jones, Dennis Dodson and Virginia State police, to the members of the jury who dedicated their time to hearing the details of this case, as well as countless friends, family and supporters. We thank each and every one for the time, energy and perseverance required to solve the mystery of our daughter's death," said Stephen Swartz, Justine's father.
After Eric Abshire's account of the events of the night of the alleged hit-and-run accident became suspicious, investigators with the Virginia State Police, led by Special Agent Mike Jones, launched a thorough investigation into the manner and circumstance of Justine's death. According to prosecutors the investigation concluded that based on a comprehensive review of the scene on Taylorsville Road in Barboursville, VA, a full autopsy of Justine's body and injuries, forensic tests and witness testimony, Justine was indeed the victim of a calculated and purposeful murder by her husband of five months, Eric Abshire.
"While this outcome is bittersweet, we are filled with relief and gratitude that justice has been done. It has been a long and painful road for everyone. Now we can look to the future and begin to heal," added Heidi Swartz, Jusine's mother.
About Justine Swartz Abshire
Justine Elizabeth Abshire was a 27-year-old much loved and respected kindergarten teacher at Emerald Hill Elementary in Culpepper, Virginia. She was born to Stephen and Heidi Swartz on February 6, 1979 in Minneapolis, Minn. She spent her high school years with her family in the Charlottesville, Virginia area, completed her undergraduate studies at James Madison University and had just begun her graduate work in elementary education at the University of Virginia. She was sister to Lauren Swartz. Though her death is a tragic loss to all who knew and loved her, the conviction of her perpetrator, husband of five months Eric Abshire, to a life sentence without parole brings with it the comfort that justice has been served. For more information about Justine, visit the Justice for Justine website at http://www.justiceforjustine.com or join Justine's Facebook page at http://www.facebook.com/groups/63568211347/.
"ORANGE COUNTY, VA – October 12, 2011. Justine Swartz Abshire was killed on November 3, 2006 on Taylorsville Road in Barboursville, Virginia in what was first reported as a hit-and-run accident. She suffered 113 blunt trauma injuries including 23 to her head. A four year investigation by led by the Virginia State Police culminated in the December 2010 with the arrest of Justine's husband, Eric Abshire, who was charged with First Degree Murder. His trial begins today in Orange, VA.
Take a moment, light a candle, think of Justine and have faith that justice will be done. Please also take a moment write your own remembrance in our guest book (see link below)."
ABC News Primetime Crime Program Featured Justine's Story
On Wednesday July 30th, 2008 ABC aired a one hour special investigative report on the circumstances surrounding Justine's death. Her family and friends welcomed this coverage. Go to the following link or to the "Primetime" section of the ABC website for more on the program. (Read Article)
A daughter...a sister...a kindergarten teacher loved by her students and parents alike...a step-mom and newlywed looking forward to her honeymoon, and building a new home with her new family. Justine Swartz Abshire touched hundreds of lives and the world was a better place because of it. On November 3, 2006, Justine Swartz Abshire was killed in what was reported as a hit-and-run accident. In March of 2008, the Virginia State Police publicly stated Justine was more likely a murder victim. She was just 27 years old.
The Police investigation remains open and very active. Justine's family and friends are also committed to finding out the truth. They want justice for this young woman whose bright future was senselessly and abruptly cut off. The people who love Justine call on those in the community to do the right thing by coming forward with any information that may be of value to the investigation.
What: The death of Justine Swartz Abshire in an alleged hit-and-run incident
When: Thursday night, November 2nd/Friday morning, November 3rd
Where: Justine's body was found on Taylorsville Road, Barboursville Virginia near the Greene County line
---

While we search for justice, please help us also celebrate Justine's life by
signing our Guestbook
. Tell us your funny stories about Justine; how she touched your life; if you or your children were inspired by her way of looking at the world. Your kind words mean so much to us and they help keep Justine's spirit and gifts alive to all who read them.
---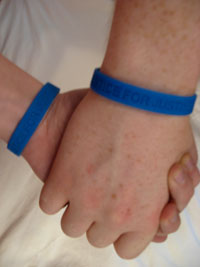 "Justice for Justine" Bracelets
Show your support by wearing a "Justice for Justine" bracelet. There is no charge for bracelets, simply mail your request, together with the number of bracelets you want, and your return address to:
Justine Abshire Memorial
PO Box 22543
Philadelphia, PA 19110
You can also request a Bracelet by using the justiceforjustinesite@gmail.com email link on this site.
Quilt Squares
Long before Justine was a kindergarten teacher, she was a kindergarten student. Justine's fellow kindergarteners all decorated fabric squares, which were then made into a Happiness Quilt. When the Quilt was raffled off at a school event, Justine was the lucky winner. She treasured her Happiness Quilt the rest of her life.

As part of the November 2007 Vigil, those who attended had the opportunity to help create a new Memorial Quilt.
---
This site owned and operated by the Friends and Family of Justine Swartz Abshire
With grateful appreciation to Ransom Group for website design. Photos Courtesy of Robert Radifera
Justine's Life
Justine Elizabeth Swartz Abshire was born on February 6, 1979 in Minneapolis, Minnesota where she and her family lived until she was eleven. She then lived in Germantown, Tennessee for several years until her family moved to the Charlottesville, Virginia area. Justine completed her undergraduate studies at James Madison University and was working on her master's degree at the University of Virginia to deepen her knowledge of elementary education studies. An avid reader herself, she was particularly interested in fostering a love of reading in her young students. Justine was often involved in service projects, and true to her gentle nature and enthusiasm for pets, she regularly volunteered at animal rescue organizations. She was a young woman who was known for always having a kind word for any whose path she crossed, and her greatest joys were spending time with her family and friends and teaching her kindergarteners at Emerald Hill Elementary in Culpeper, Virginia. She married Eric Abshire in May 2006. Justine's warmth and nurturing presence are greatly missed by her parents, Stephen and Heidi Swartz, her sister, Lauren, her two stepdaughters and her extended family, as well as her students and countless friends.
---
Justine Swartz
October 3, 2006
I am the ring of water that begins when a tiny pebble falls into the stream, As time goes my presence will become known, far and wide.

I am an actor behind the scenes, waiting patiently for my part to begin.

I am your cheerleader, silently cheering for you.

I am hopeful of our future and know that I am blessed to be in your life.

You are always in my thoughts and prayers
---
Click Here to view the First Anniversary Candlelight Vigil, November 3rd 2007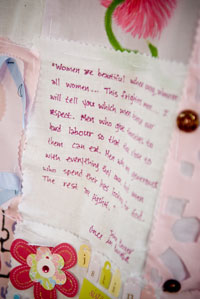 Marking the first anniversary of Justine's death, we will hold a family-friendly candlelight vigil to share her stories and offer a hopeful light in the darkness surrounding her death. Please join us!
---
Roadside Remembrance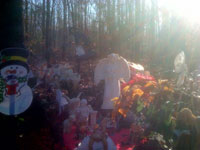 The above roadside tribute to Justine is located just yards from where she was found on Taylorsville Road. It's kept up by various people and continues to grow. Please feel free to add your own Remembrance to mark this 3rd anniversary, and during the coming holidays.